There was a Monday–I believe it was March 19–when I woke up later than I wanted, feeling depressed about something that I can no longer remember.  I was hungry and seriously considered going to Burger King, but instead forced myself to opt for Smoothie King, assuming it to be the healthier choice.
Unsatisfied in the aftermath of my Muscle Punch, I headed right back across the street for nuggets, but when I hit the corner of Euterpe Street and St. Charles Avenue my vision was obstructed by the contents of a bright blue box, and I was enveloped with elation and shock.
Inside, rested a stack of copies of the Times-Picayune, and I could clearly see a feature article I had recently written sitting above the fold on the front page.  The first handful of words were in a large blue font and the rest of the lead loomed equally as big in bold.
I had been wondering about the fate of this article, a profile of a grizzled, PTSD-battered Vietnam veteran that had formed such a bond with a fellow, dying Marine that he singlehandedly transported the man's ashes to his final resting place.
I had never expected to see it running above the fold of the front page, and in lieu of ransacking the dollar menu, I emptied all the change out of my apartment and bought a half-dozen copies to savor the moment.
I grew up reading the Times-Picayune.  Then, I drifted away from Louisiana for the better part of a decade, getting degrees in English and journalism out West and spending time walking around strange countries asking strange questions, before I finally returned, dead broke and jobless, to New Orleans.
Through pure chance, I maneuvered my way into the newsroom of the paper two years ago and was able to get a few minutes with a few editors and drop off some clips. Those clips managed to get me a story and that story managed to get me another and I've spent the last two years freelancing for the newspaper, a wonderfully carefree part-time gig that has allowed me to rediscover New Orleans with an intimacy that would have otherwise been impossible.
It's within this context that I've watched the turmoil that has ensnared New Orleans and its hometown paper, a Pulitzer-prize winning daily that announced last month that it will end its 175-year daily publication streak by moving to only three print editions per week this fall and focusing more heavily on digital content.
The news, which was broken by New York Times columnist David Carr on May 24, was spectacular at the time, but nothing compared to the tempest of layoffs, protests and punditry that has followed.
Within days of Carrs's column, a group called Save the Picayune had formed and began gathering signatures on an online petition that has now collected over 8,500 names.  On June 4, the group held a protest in the parking lot of Rock N Bowl, where a few hundred participants– many in resplendent costumes– chanted, danced, drank beer and listened to the likes of Allen Toussaint jam out on stage.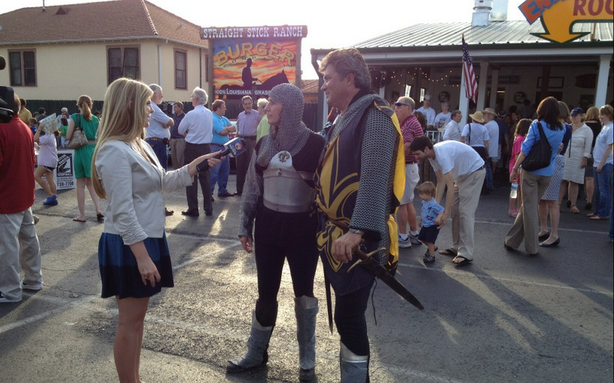 Sidenote: I know this, because I was there, unlike the Atlantic Monthly, which chose to unlawfully upload the above photo from my Twitter stream without permission and with scant attribution.
The Save the Picayune crew, spearheaded by Anne Milling, who sits on the paper's board, simultaneously unveiled a letter of opposition to the cuts signed by a wide array of New Orleans civic and business leaders.  A week later, on June 11, the group released a second letter, this one from advertisers concerned about moving to three-day a week schedule.
Then on June 12, over 200 employees were laid off from the Times-Picayune including 84 of the 173 members of the newsroom and a number of reporters and photographers with over 20 years of experience at the paper.
Bruce Nolan, the newspaper's veteran religion columnist, described the undertaking as follows:
"People stood in knots; women hugged themselves defensively; men threw arms over others' shoulders. There was gallows humor – lots of it – bewilderment, more humor, more bewilderment. People emerged from meetings and drew their fingers across their throats. It was shocking: Him! Her!! What can they be thinking?"
To add insult to injury, that same evening, while Times-Picayune reporters limped over to Wit's Inn to drown their sorrows, Steve Newhouse, president of Advance.Net, the parent company of the paper, moved quickly to stamp out any rumor that the company might sell the paper–widely assumed to be profitable–to local interests, telling the New York Times: "We have no intention of selling no matter how much noise there is out there."
Public reaction to the move was  fierce.  Local businesses began circulating wanted posters of Advance Publications president Ricky Matthews–who was spearheading the change–and quickly became the only person in the city whose unpopularity eclipsed that of Roger Goodell.
Meanwhile, the press and the pundits' reactions to the firings of their brethren were equally merciless and when Amoss went on PBS's Newshour to defend the move, he got hammered by NYT columnist David Carr, who called the move "a pivot to weakness," and revealed to the world that the Times-Picayune's website, NOLA.com, is generally agreed upon as being terrible.
The next morning, readers woke up to a 1,500-word front-page essay from Editor Jim Amoss, the first attempt by the company to use its own paper to fight off the beating it had taken in the press and from the public.  Amoss's piece, set against the backdrop of Hurricane Katrina, stressed the overwhelming need to move to a more digitally focused presence or "risk a slow, irrelevant death." It cited 22 quarters of declining national advertising revenue and the breakneck speed of digital news as two of the primary reasons why the move was a necessity.
That Sunday, Advance President Ricky Matthews unleashed his own front page missive, beginning with his surviving the pounding waves of the Storm at his Black Bay home in Mobile and so suffused in New Orleans imagery–from Steve Gleason's blocked punt to Matthews's hunting and fishing in the bayous–that I fully expected to see the column end with a picture of him getting a tattoo of a fleur de lis on his bicep.
Unfortunately, it didn't.
So that was that.  The Times-Picayune had been eviscerated, the paper was cutting back to three days a week, a host of veteran reporters were going to be laid off and, in a best-case scenario, replaced by less experienced reporters, who would usher in the digital age by either:
(A) Creating an armada of high-quality, robust content to leverage across multiple platforms and make the Times-Picayune a journalistic leader in new media, or
(B) Transforming what was once a bedrock of the New Orleans community into a glorified blog, powered primarily by Justin Bieber's Twitter stream.
I had thought, when I began writing this essay, that by the end I would be able to come to some sort of sensible opinion on this matter, maybe even take a side, say something poignant and righteous, like many others have, but all the obvious angles have been taken and all the contrarian ones just seem too taxing.
However, a few things are in my mind are unequivocal.
(1)  The public relations disaster that the Advance Publications has created is of such epic proportion that an opinion survey on the matter could only be facilitated by a pollster skilled in dodging bottles.
(2)  There is a lot of merit to the idea of moving the Times-Picayune to a digital presence; there is not a lot of merit to leaving half the newsroom behind, as it is nearly impossible to imagine that the Times-Picayune can continue to achieve the same level of Pulitzer-Prize winning journalism (see last month's series on incarceration in Louisiana as an example) after unloading so many experienced reporters.
(3) Despite the feel-good narrative of New Orleanians loving to read print newspapers ( I do enjoy it myself), newspapers, along with books, appear destined to eventually be discarded as relics of a the print age.  The world is moving fast and furiously to digital. The next generation of New Orleanians won't drink chicory coffee and read through the newspaper.  They will drink chicory coffee and utilize digital technology of such unfathomable power and convenience that it will make today's tablets and smartphones look like carrier pigeons.
(4)  This crisis, and the reactions that it has produced, are another example of the passion, spirit, and unrivaled weirdness of New Orleans, never mind the unrepentant rage it directs at anyone or anything interfering with its rituals. It is the energy of this city–from its charm and beauty to its eyesores and other imperfections–that has helped the Times-Picayune become such a captivating read. I am cautiously optimistic that this spirit will aid this transition and that this city will still be home to a vibrant melange of journalism, whether it exists in a print newspaper, on NOLA.com or somewhere out in the ether we haven't even conceived of as of yet.